Thanks for printing! Don't forget to come back to Artisan Custom Closets for fresh articles!
Our Team

Our Team

Our Team

Our Team

Our Team

Our Team

Our Team
Meet Our Team

People making a difference . . . Artisan Custom Closets wants to help you build the closet of your dreams! We work in large closets and small closets, and have been known to make storage space where none previously existed! Please take a moment to get to know your closet designer. Our experience in the field, coupled with our precision manufacturing and experienced installation staff, ensure the best possible experience from design to installation.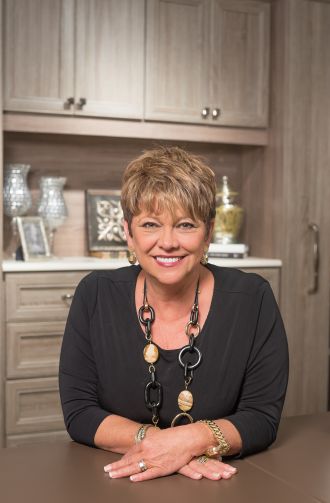 Lisa Carlquist, President, Master Storage Designer
Lisa has more than twenty years experience in the custom closet and storage industry. Her journey began as a designer with a national franchise, The Closet Factory, and then on to a locally owned company for more than 12 years prior to forming Artisan Custom Closets in 2011. Lisa vowed to make Artisan the best custom closet company in the Atlanta market! She has taken it to new levels by hiring the most experienced space planners, designers, engineers and installers in the Atlanta area.
Lisa is a Master Storage Designer through the Association of Closet and Storage Professionals; has created spaces for some of the most visible clients in Atlanta; and designed many show homes including the Atlanta Magazine Dream Home and the Roswell Women's Show House. Her experience includes designing spaces for speculative homes and custom homes with some of Atlanta's premier homebuilders and remodelers.
Lisa is an avid Tennessee football fan and her daughter, Stephanie, graduated from the University of Georgia. Stephanie works for SAP as an Innovation Services Account Executive in Manhattan, NY. Lisa lives in Kennesaw, Georgia, with her husband, Jeremy, and their dog, Daisy.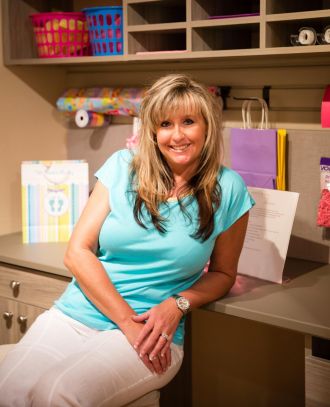 Alley Sandy, Sales/Design Manager, Registered Storage Designer
Alley is originally from the Fayetteville, Georgia area and now resides in Kennesaw with her family. In her personal life, Alley is an "organizational freak!" She loves to find the best use of space both for function and design. Alley says that when she helps clients organize and customize their space she feels a real sense of accomplishment.
With a background in design and 16 years as a business owner, Alley has been organizing and enhancing space functionality for 20 years. As the Sales & Design Manager (also a Registered Storage Designer through the Association of Closet and Storage Professionals) for Artisan Custom Closets, Alley's specialty is to provide clients with an outlet for turning their ideas, needs and desires for cluttered or unproductive closets, pantries, offices and garages into a beautiful new reality. Her favorite part of the process is sitting down with her clients to help them turn their dreams into a design and final installation that exceeds their expectations, every time.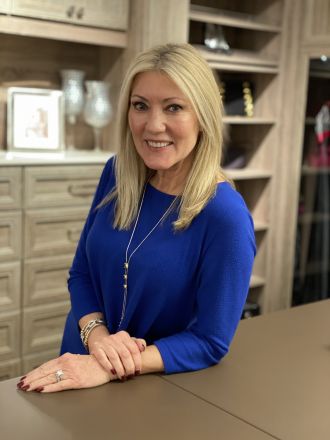 Cathy Davis, Senior Design Consultant
Cathy lives in Sandy Springs, Georgia, and is currently in her 20th year of closet design! She previously worked in the window covering business and decided to turn one of her bedrooms into her closet (a "room conversion").  In getting her own closet customized, Cathy realized that it was a business she wanted to be involved in and she has never stopped!
Cathy's favorite part of the closet design business is hearing how much the customer loves their new closet.  She works hard and is extremely dedicated to attending to each customer's personal needs.  She says "it is rewarding knowing that I am responsible for a terrific outcome."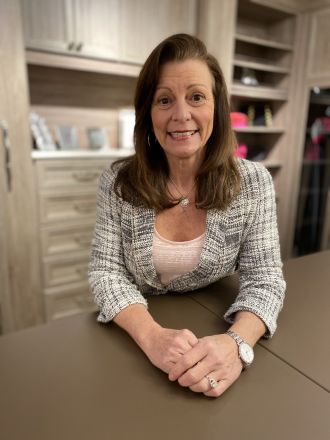 Vicky Remole, Senior Design Consultant, Registered Storage Designer
Vicky brings more than 10 years of experience as a "Closet and Storage Designer", along with a huge following of satisfied and loyal customers in the metro Atlanta area. Vicky has developed great expertise in designing custom closet and storage solutions, whether it's a simple linen closet or the most elegant dream closet. What Vicky loves most about her work is the ability to bring peace and order to her customer's lives, making for a "life changing experience".
Vicky lives in Woodstock, Georgia, and loves to cook and spend time with her friends and family.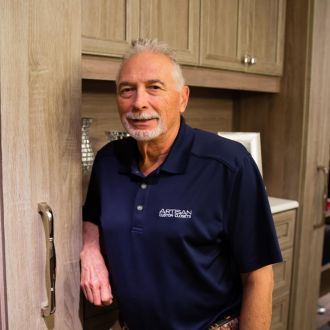 Bob Kammerer, Brand Ambassador, Registered Storage Designer
Bob says "I wanted to be an architect when I was young, but my profession took me in a different direction.  Thirteen years ago, I had the opportunity to move into the design and space-planning arena.  I love the challenge that each new job brings."
Bob lives in the Reynolds Lake OConee Community and services the Lake Oconee area.  Bob works with most of the major builders and is a member of the Lake Oconee Area Builders Association. He has designed storage solutions for over 800 homes in the Lake Oconee area and he loves it when clients tell him "they like their new home but they LOVE their new closets". Customer service and satisfaction are his number one goal. Bob is a Registered Storage Designer through the Association of Closet and Storage Professionals.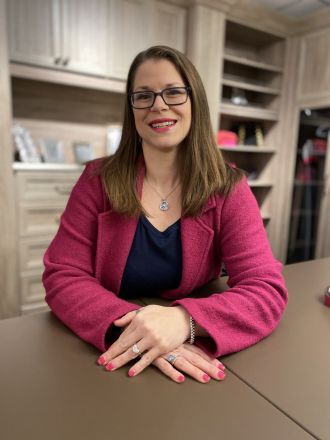 Maggie Horie, Senior Design Consultant, Registered Storage Designer
Maggie was born and raised on a cattle farm in Winder, GA. She now lives in the Grayson area with her husband, two daughters and son.
Her passion for helping other people originated from her days as a personal shopper at Nordstrom. There, she learned to work closely with clients to capture their style and personal taste. She successfully grew a client base that trusted her with filling their wardrobe.
That passion grew further when she started working in the closet industry several years ago. She uses her experience with suiting peoples needs to listen and capture exactly what her customers are looking for in a closet. She prides herself on making "not only a pretty closet but a functional one, also." Maggie says she loves "helping people in general, regardless of the size of the project." Maggie is a Registered Storage Designer through the Association of Closet and Storage Professionals.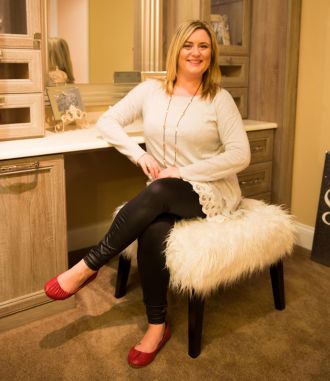 Brandi Doctoroff, Senior Design Consultant, Registered Storage Designer
Brandi is originally from Norcross, Georgia but has recently built a new home in Woodstock. She enjoys keeping everything in order, from not only her closet (which is organized by color—and sleeve length!) but even down to the labels on everything in her pantry!
While her parents would probably tell you that she wasn't the most organized kid, her college roommates would say differently. Not only does she love to organize, she loves to do anything DIY and is often heard saying "Joanna Gaines (from Fixer Upper) is my spirit animal!"
Brandi enjoys working closely with her clients to ensure that they receive a solution for all their needs. "The unit has to be extremely functional while also being beautiful. You start your day out in your closet, so it needs to look great!"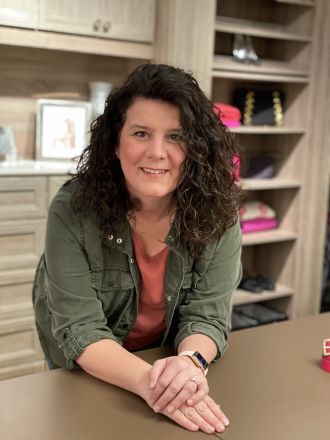 Nicola Anderson, Senior Design Consultant, Registered Storage Designer
Nicola's passion for remodeling and design started after purchasing a 'fixer upper' in Marietta, Georgia, several years ago. After being engaged in every minor decision from construction, trim, colors and organization, a desire to help others with similar projects developed into a career with the Artisan Custom Closets Design Team.
She lives in Marietta with her two children and enjoys being involved in every aspect of their busy lives, capturing every moment along the way through her love for photography. She enjoys landscape and sports photography the most but occasionally combines her hobby with work by photographing completed closet projects.
Meeting new people with a wide range of different needs and from extremely diverse backgrounds is her favorite aspect of working at Artisan Custom Closets. "Just seeing how different everyone's decorating styles and organizational behaviors are makes every day exciting and interesting! Knowing that I can help anyone regardless of their priorities, whether they need functionality of whether they just want a 'pretty' space is very gratifying!". Nicola is a Registered Storage Designer through the Association of Closet & Storage Professionals.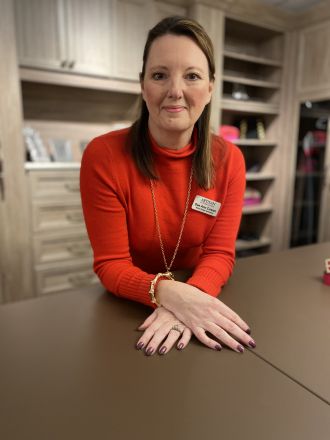 Dee Ann Cowan, Senior Design Consultant
Dee Ann is a true Atlanta native! Originally from the Jonesboro area, she currently calls Brookhaven home with her husband and their great pyrenees, Captain Jack. 
She truly enjoys the role as Project Manager, working closely with clients to ensure the final design meets all their needs and exceeds expectations. She has a passion for helping clients see the plans on paper transform into something that is both spectacular and extremely functional. "I pride myself on being your personal consultant from beginning to end. I can't wait to see the look on your face once the project is complete. I know you're going to love it for a very long time!"
When not designing gorgeous closets & pantries, Dee Ann can be found running the streets of Atlanta training for half marathons or hiking with her husband and Captain Jack in Stone Mountain Park.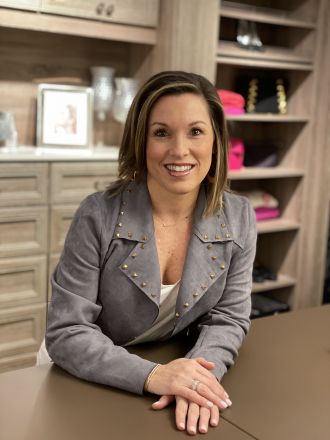 Andrea Lively, Senior Design Consultant
Andrea is one of the few Atlanta natives, born and raised in Marietta, GA.  Her background in IT and love for "putting the pieces of a puzzle" together, sparked her interest in space planning for the closet design industry. 
Andrea loves meeting new people and building relationships.  Growing up, her mother always told her she should be a reporter, as she loved to talk to everyone and learn about their lives.  She understands that every project, every budget, and every client is different, which creates new excitement every day.  Andrea explains, "I love creating a design that is functional and uniquely reflects my client's desires."
When not designing, Andrea enjoys spending time with her husband, daughter, two step-sons and her chocolate labradoodle, Murphy.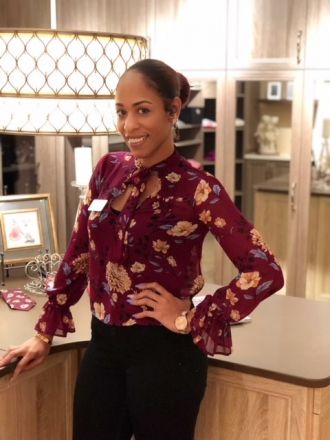 Jay Choice, Senior Design Consultant
Jerrinika Choice, affectionately known as Jay, is a native of Montgomery, Alabama and currently resides in Sandy Springs, GA with her two adorable children, Braylon and Bella. She has a Bachelor of Science in Education and over four years of experience in design and event planning. In her spare time, she is a fashion and print model/actress.
Jay says, "I love educating my customers through the entire process while bringing their aesthetic vision to life!" She loves seeing her customers get excited about the transformation of their space. With her creativity and background in design, Jay is sure to create a master piece for you. If you're looking for a functional space or to add value to your home, Jay is your designer.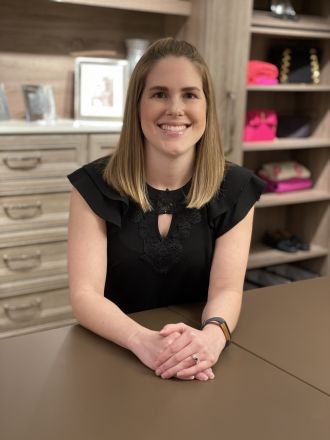 Brittney Bass, Senior Design Consultant
Brittney has been a part of the Artisan family for 2 years. She loves creating an organized and efficient dream closet space for each and every customer. After all, you start each morning in your closet, so you should love it! Install day is her absolute favorite. Brittney says, "You finally get to see it all come together and the finished product is even more magnificent than you imagined!"  In her spare time, she enjoys outdoor activities, cooking, watching HGTV and spending time with her husband, daughter and Jack Russel.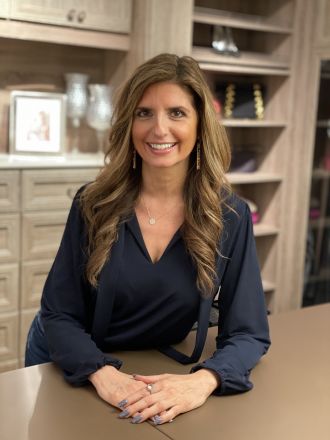 Danielle Carruth, Senior Design Consultant
Danielle started off teaching elementary school and raising her two children, who are now teenagers. After years of organizing her own classroom, personal home, and closets for friends and family, she decided to use her organizational skills and creativity to make a career. She says, "Artisan Custom Closets is my job soulmate! I absolutely love helping people feel great in their living spaces! Customer relationships and their happiness are my top priorities!"
She is extremely patient, easy to work with, and enjoys listening to her clients' needs to help them maximize their spaces in the most functional way with a look that is aesthetically pleasing.
Danielle has lived in Woodstock, Georgia, for over a decade and loves how beautifully her town has transformed over the years. If she's not designing closets for clients or spending precious time at home with her family and sweet dog, Charlotte, she is enjoying Downtown Woodstock and all it has to offer!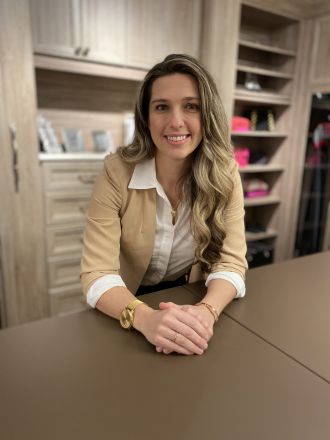 Heather Gerstner, Senior Design Consultant
Heather is originally from Sarasota, Florida. She and her husband, Charlie, moved to the Atlanta area ten years ago and have since settled down in Kennesaw, Georgia. Heather enjoys spending time with her three wonderful children at outings to the new SunTrust Park, a good round of golf, and spending time with close friends.
Designing and space management has been a passion of Heather's for many years. Creating a space that is not only beautiful but also highly functional for a client is very rewarding. Heather believes that helping someone achieve balance and peace within their home starts with good organization. Creating a custom space allows for a better flow of your home and also saves on time! Heather takes pride in helping others and is truly excited for each client to see and live with their new space.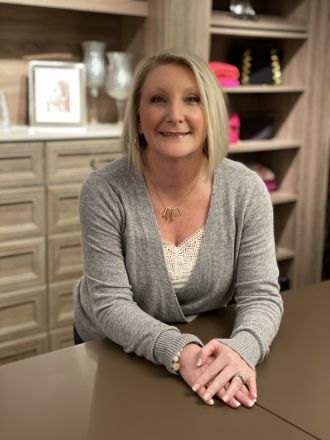 Samantha Patterson, Senior Design Consultant
Samantha has lived in the Atlanta area for 23 years. She has a design background having studied interior and fashion design at Georgia Southern University. Samantha has a passion for design, as well as organized and beautiful spaces. She believes organization is key to living your best, stress-free life.
Samantha enjoys working closely and collaboratively with her clients to determine their organizational needs. She strives to create not only functional spaces, but beautiful spaces that make her clients proud and improve their quality of life.
Samantha resides in the Roswell/East Cobb area with her husband of 18 years, their two children, and fur baby. She enjoys spending time with her family and friends and keeping up with the latest home décor trends.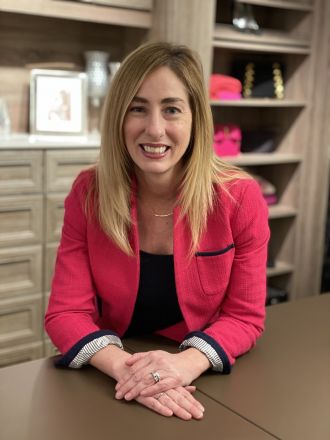 Terry Street, Senior Design Consultant
After several years as part-time residents, Terry, and her husband Mark, relocated from Atlanta to make the Lake Oconee community their permanent home. She earned an MBA from the University of Florida and has an extensive professional background in customer service after working nearly 20 years at Ford Motor Company.
Terry has always had a passion for design and organization. She loves that her career incorporates both! Terry's favorite part of her job is helping her clients get the closet, pantry, office or garage of their dreams. Every customer is different. She loves to discover their vision and then make it come to life in her design. Terry is known for being patient and she works diligently with each of her customers to ensure they have the design of their dreams!
In her spare time, Terry enjoys watching anything on HGTV, boating on Lake Oconee and spending quality time with family, friends and their two chocolate labs - Tide and Summer. Terry and Mark are members of Lake Oconee Church in Greensboro.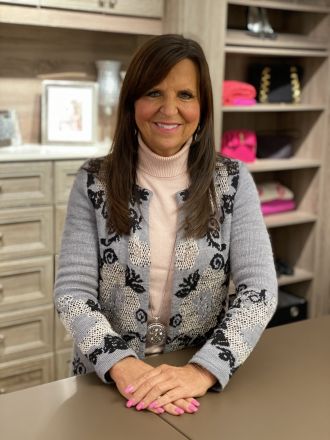 Debbie Dickinson, Senior Design Consultant
Debbie is from Michigan but made Georgia her home after college graduation. She spent 30 years in the banking industry holding many positions including several senior leadership positions and Vice President. After retiring from banking, her first home project was to organize her own closet and laundry room. She says that experience "changed her life" and absolutely loves her own organized spaces so she decided she wanted to return to work and share her experience with as many people as possible.
Debbie's extensive experience in ensuring an excellent client experience drives her passion for creating new relationships, listening and getting things right for each of her clients. You can expect her to be involved in the process from start to finish! Her favorite part of each client's process is receiving pictures from satisfied clients and hearing their excitement and joy after getting their spaces organized.
Debbie has two grown sons, a daughter-in-law, two grandchildren and two tea-cup Yorkie puppies. She resides in Griffin, Georgia.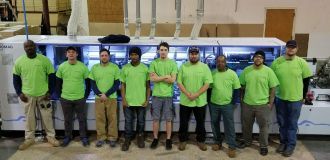 Production Staff
Our skilled team of machine operators keep our shop running like a well-oiled machine. Yes, we produce all of our parts locally in our Marietta, Georgia, facility. We use a screen-to-machine manufacturing process which means that each closet is truly custom built only after you approve your designs. Come by and take a tour of our manufacturing facility; you'll be glad you did.
Installation Staff
Our team of installers are the best in the closet and cabinet industry! But don't take our word for it, read our reviews! Each installer undergoes a background check to ensure your family's safety and continuous training keeps them on top of their game. New construction . . . no worries! Our closet installers take every measure to make certain that your flooring and walls are protected. They are highly trained in working in new construction homes, homes under rennovation, or organization in your existing home.