Thanks for printing! Don't forget to come back to Artisan Custom Closets for fresh articles!
Pantry Cabinets

Pantry Cabinets

Pantry Cabinets

Pantry Cabinets

Pantry Cabinets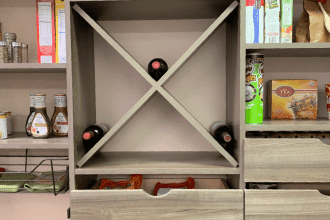 Request a Free In-Home Design Consultation
Pantry Organization Begins With Smart Planning
Pantry Cabinets
Every Atlanta family and every kitchen pantry is different. That's why pantry cabinet storage from Artisan Custom Closets is custom designed and built just for you. We work with you to create custom pantry cabinets that work for your needs.
Attractive Adjustable Shelving
Inexpensive wire shelving has long been the standard for pantry cabinets. It's unstable—the wire design makes it easy for items to fall over. It's also messy—if something spills on one shelf, it gets everywhere. Unfortunately, it doesn't look nice either.
To give your pantry an update, let's get rid of that white wire pantry shelving, and upgrade to solid shelves you can adjust as needed. To reflect the style of the rest of your kitchen, choose from a variety of colors and finishes. Remember, the inside of your pantry cabinet deserves to look as beautiful as the rest of your space.
Countertops
Most traditional pantries aren't designed to hold appliances, but a contemporary kitchen needs that. From ceiling-mounted pot racks to sturdy shelves that can hold everything from stand mixers to blenders, we give our clients exactly what they need. We can even set up pantries so they have extra room for baking or food prep if needed.
Custom Pantry Shelving
When you're organizing pantry cabinets, you'll usually find that not all the items fit easily on a shelf. To keep small items organized, let's integrate handy baskets. For trays and platters, vertical slots help keep them organized and ready when you need them. If you're tired of digging through the clutter of piles of baking trays and roasting pans, these solutions are ideal.
There are even special racks that can store your tablecloths so they are always unwrinkled and ready to use. Need to fit in something bigger? Want to put more shelves on a single wall? Then, just adjust the shelving in your pantry cabinets until it works for you.
Drawers
Custom pantry cabinets can also integrate drawers. If you need a spot to stow your tea collection, your cloth napkins, or other essentials, drawers are the perfect solution. Some people opt for traditional drawers that close completely and feature a decorative pull. Others feature a slightly open style so you can see what's inside.
Easy Access
In addition to redoing the inside of pantry cabinets, we can also make your pantry more accessible. We can put in pocket doors that make it easy to open up the pantry and see everything. We know how frustrating it is to lose items for years in the back of a crowded pantry.
The Process
When you contact us, we start with an assessment of your home. We look at your current pantry cabinets and talk about your wish list. Then, we use our software to create a 3-dimensional model of your dream pantry. At that point, we refine the details and make sure that everything makes you happy. After that, it's installation day.
To get a custom pantry, contact us today. At Artisan Custom Closets, we do more than just closets. We also do pantry cabinets, home offices, garage storage and more. Let us help you organize your space today.
Lock It Up for Safety
Have small children at home? We'll install child-proof locks to prevent access to hazardous items such as cleaning chemicals.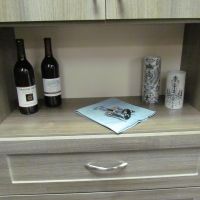 Just Went Grocery Shopping
You'll now have convenient countertop space to put down and unpack your groceries. That's pantry organization for everyday efficiency.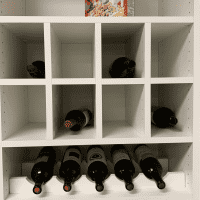 Wine Racks
Be ready for unexpected guests! Incorporate a wine rack into your pantry!