Thanks for printing! Don't forget to come back to Artisan Custom Closets for fresh articles!
Murphy Beds

Murphy Beds

Murphy Beds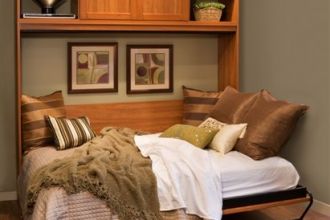 Request a Free In-Home Design Consultation
What Is a Murphy Bed?
Organization in your home can be a difficult thing to achieve. It's even harder without the right tools to do so. Sometimes you just have too much stuff, and not enough space for it all. Smart homeowners take steps to make sure that their homes can be easily organized. One solution for really optimizing rooms is getting a Murphy bed, so that your rooms can serve dual a dual purpose.
A murphy bed, sometimes called a wall bed, can help you make more space for the things that matter in your home. A murphy bed is a hinged bed that can be stored horizontally or vertically along a wall or inside furniture. A murphy bed fits snugly into a custom storage space when you're not using it, allowing you to use that floor space for something else. Imagine having a room that's a guest room when you need it, and when you don't you can use it as an office or a den. Or having extra storage space in your living room that houses an extra bed for when you need it.
You can put a Murphy bed in virtually any room of your house. We can offer a full range of sizes and shapes for Murphy beds to fit any room and any home, and can even custom craft them to your exact specifications. The beds themselves follow standard sizes, and are very comfortable.
Murphy beds tend to come in two forms: standard tilt, and side tilt. A standard tilt Murphy bed is stored vertically along the wall, with the hinges at the head of the bed. They're commonly folded into cupboards that can house them. Side tilt Murphy beds have hinges along one side of the bed, and are stored horizontally on the wall. Choose whichever makes more sense for your space. Both kinds are very easy to raise and lower: spring-loaded frames are designed to make the process effortless.
Our Custom Wall Beds Team
When you contact us, our team of designers and builders will work with you every step of the way to make sure that you get a completely custom design for the wall bed and storage that fits inside of your home neatly. It starts with a free design consultation, where you'll be assigned a personal Artisan Design consultant to walk you through the process. Our design consultants can advise on everything from wood and finish, to what kind of storage space you'll need, to how best to make it fit.
You can see customized CAD designs of the project before it gets built, so you know exactly what you're going to get and you can make sure that you're happy with it. We can also install it once the day comes.
If you're interested in opening up some more space in your home, then get in touch with our design team by calling us at 770-790-5368, or filling out the contact form to get more information.