Thanks for printing! Don't forget to come back to Artisan Custom Closets for fresh articles!
Garage Storage

Garage Storage

Garage Storage

Garage Storage

Garage Storage

Garage Storage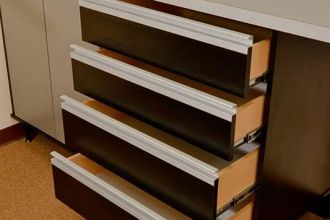 Request a Free In-Home Design Consultation
Separate 'Zones' for Your Garage System
Garage Storage
A messy garage can be hard to navigate and hard to look at. In some cases, people's garages get so disorganized and full of stuff that it becomes impossible to park cars in there. If you want your garage to be better organized or if you want to free up some space, it may be time to focus on garage storage solutions.
Advantage of Garage Storage Solutions
A garage storage system makes it easier to find what you need in your garage. The right system can also add style to your garage. For example, if you don't like to see all your tools and toys, you may want to opt for a system that hides everything away behind closet doors.
Storage also helps to make the most of your space. A jumbled pile of boxes takes up a lot more room than a well-organized series of shelves or closets. Getting power tools or sharp garden implements up and out of the way can also make the space safe for children.
Process of Adding Garage Storage
There are all kinds of ways to enhance garage storage. You can try to do it all yourself by investing in shelves, hooks, and other storage solutions. However, if you want a truly organized and attractive space, you may want to work with a professional.
At Artisan Custom Closets, we don't just focus on organization inside the house. We can also help you organize your garage. We start by sending an artisan design consultant to your home. They talk with you about what you want from both an organizational and a style perspective.
Typically, we divide your garage into different zones. That's usually based on what you're storing in each area. For instance, we may create separate garage storage area for tools, gardening supplies, crafts, and sports equipment just to name a few. Once we've divided everything up, we figure out how to maximize the space in each area.
That includes identifying the right storage solutions such as cabinets, shelves, bike racks, peg boards, and more, but it also includes positioning your items in a way that makes sense. In particular, we might put seldom-used items such as holiday decorations in out of the way spots near the ceiling, but we put the items you use the most in the most accessible places.
Custom Garage Storage Solutions
Finally, we let you customize the details. You get to make the final selections on which storage solutions work for you. You also get to pick from different colors and wood finishes. We have a huge range of options that includes over 30 different solid colors and wood grains. Don't forget the little details like drawer pulls and cabinet handles.
Tired of tripping over clutter? Frustrated that you can't find what you need in your garage? Then, give us a call today to talk about your garage storage needs. At Artisan Custom Closets, we help people in the greater Atlanta area create the closets and storage solutions they need. We offer high-end solutions for everywhere from mud rooms to home offices to closets and more.
Each Child Gets Their Own Locker
That way they can store, and keep track, of their own stuff. Your Artisan garage designer can offer many great ideas.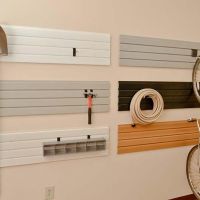 Goodbye Workshop Clutter
We build garage workshops that not only start out neat and tidy but have the right features and spaces so they remain that way.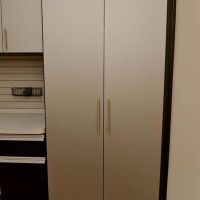 Tidy Up By Covering Up
Garage storage cabinets, closets, baskets and drawers are perfect for hiding all the things that currently make your garage look so cluttered.