Thanks for printing! Don't forget to come back to Artisan Custom Closets for fresh articles!
Closet Accessories

Closet Accessories

Closet Accessories

Closet Accessories

Closet Accessories

Closet Accessories

Closet Accessories
Request a Free In-Home Design Consultation
Accessories to Complete Your Closet
It can lot a lot of effort to get your life organized, especially if you don't have the right tools to do it. At Artisan Custom Closets we specialize in providing people storage spaces that perfectly fits their lives and needs. We can provide a personalized experience throughout every step of getting a new custom closet, from designing to building to installing it in your home.
We do more than just offer a set of cookie-cutter closets. To properly get your life organized you need something built for your needs. We can design and build any number of custom closet accessories to suit any particular storage needs you have.
Build Your Closet According to Your Needs
Create custom shoe storage in the form of a display for all of your favorite pairs of shoes. We can build special shelves to house them, or pull out drawers specially designed for them. There's no end to the possible configurations: whatever suits you best. A lot of closet space often gets eaten up by lack of good shoe storage, so save extra space and store your shoes properly!
Do you have a jewelry collection that needs storing? Let's build some custom jewelry drawers and dividers to keep your collection in. Keep your favorite pieces somewhere special where they can be displayed and stored easily. Good storage makes it easy to find and choose your accessories for the day.
Connectivity is a big part of peoples' days, so it's important to have access to device storage and charging when you need it. We can create custom device storage with charging outlets built into drawers so you can easily charge your smartphone or other mobile device.
Keep your ties, scarves, belts, and other accessories all in one place where they're easy to find and choose. A custom pull out rack will allow you to organize all of these accessories easily and neatly so that you can always find exactly what you're looking for.
We can offer many more custom closet accessories: when we get started, you'll be assigned a designer who will work with you to determine exactly what you need from your custom closet and to create a design that you're happy with. Once the design has been finalized, the closet will be built here in Atlanta by our local expert craftsmen. We can also install your closet for you: closet installations can take as little as a single day. We're committed to using high-quality green materials that are safe for your family and the planet.
If you're interested in building a completely custom closet for your home, then fill out our online form or call us at 770-790-5368 to get started!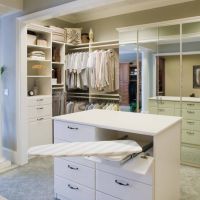 Custom Accessories
Get storage space that fits your life and your needs.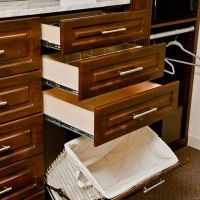 Local Craftsmen
All closets and designed and built here in Georgia.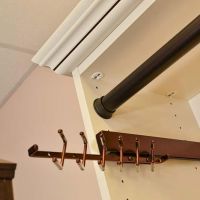 Environmentally Friendly
All materials that we use in the construction of your closet are certified to CPAEPP (Composite Panel Association's Environmentally Preferable Product) standards.